The Alberta Table of Formations is a schematic representation of the stratigraphic succession of geological units in the province. It serves as a fundamental reference for all energy, mineral, and groundwater resource industries in Alberta to identify and properly name the geological formations encountered by wells.  The Alberta Table of Formations is the starting point and key reference for any geological investigation or exploration within the province.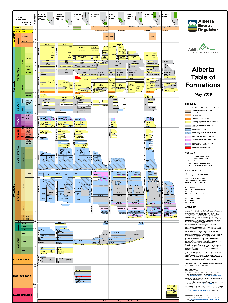 Alberta Table of Formations (click image to download PDF)
The Alberta Geological Survey is responsible for updating the Table of Formations and maintaining supporting documentation to accurately represent the most current state of geological knowledge, ensuring the communication of vital, accurate, and credible information to decision-makers, industry, and the general public.
As our understanding of Alberta's subsurface geology is constantly evolving with new drilling, sample analysis, and publications, the Alberta Geological Survey evaluates and determines if updates to the Alberta Table of Formations are necessary to ensure that it reflects the current status of scientific geological knowledge.  All updates to the Table of Formations are recorded in the Change Log, which provides references to the scientific literature that supports the changes.
We encourage people to continually check this website for the most up-to-date version of the Table of Formations. If you have any questions, concerns, or scientific updates that you would like to alert us to, please send them to @email.  We would love to hear from you.