One of Canada's largest modern rockslide occurred on April 29, 1903, at 4:10 a.m. on Turtle Mountain in the Crowsnest Pass in southwestern Alberta. Approximately 30 million cubic metres (80 million tonnes) of rock buried a portion of the town of Frank, killing more than 70 people. Since then, studies have been performed by various government groups, universities, and geotechnical consulting companies to assess the potential for a second slide.


Figure 1 – Before and after photo of Turtle Mountain, Frank, Alberta, in 1903.
In 2005, the Alberta Geological Survey (AGS) was given the responsibility for the creation and operation of the Turtle Mountain Monitoring Program (TMMP). The goal of the TMMP is to provide ongoing monitoring and research focused on understanding the nature of rock movements on Turtle Mountain's unstable slopes. The near-real-time monitoring system put in place by the TMMP ensures the safety of residents living in the Municipality of Crowsnest Pass by providing advanced warning of mass movements on the mountain.
Through a decade of research, the AGS has determined that movement of the mountain's rock mass has been slow (i.e., millimeters per year) and finds the likelihood of a large-scale rockslide to be low.


Figure 2 - Location of Turtle Mountain in southwestern Alberta and full-extent aerial view of the Frank Slide. The dashed line below South Peak outlines the area identified by J. A. Allan (1931) as being most unstable.
Currently, AGS uses differential global positioning system (dGPS), ground-based interferometric synthetic aperture radar (GB-InSAR), and satellite-based InSAR systems and data to monitor rock movement on Turtle Mountain and produces an annual report summarizing the previous year's activities and findings.
---
Turtle Mountain Webcams and Video files
In 2007, the AGS installed web cameras on South Peak (South Peak webcam) and at the base of the valley (Bellevue webcam). In the summer of 2017 both webcams were replaced with improved equipment.
Webcam images refresh every five minutes. Click the refresh button on your browser to see the latest image.
Bellevue webcam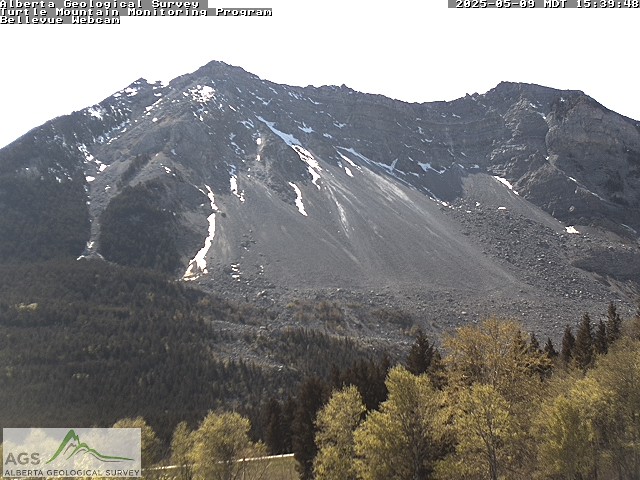 South Peak webcam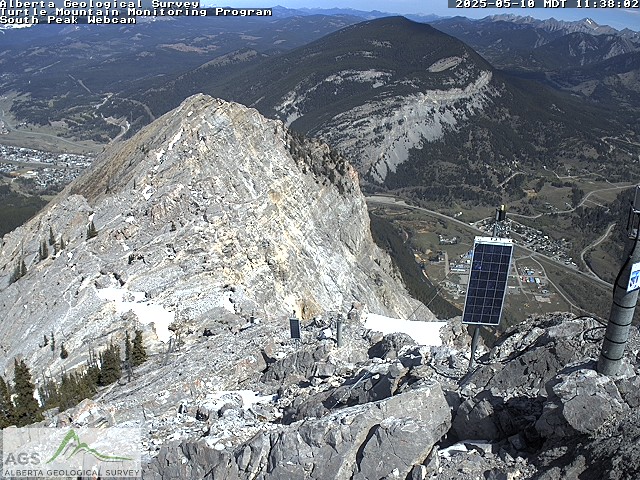 The videos are time-lapsed images from the webcams of the changing conditions on Turtle Mountain. On moonlit nights, you can often see the outline of the north peak and the nearby mountains.
We provide current day plus a historical week of daily MP4 videos in two video resolutions; 640 x 480 and 1280 x 960. The current day's video is updated every hour and covers the last 24 hours. We also provide a video collage from the previous calendar year in both resolutions to show the changing seasons on Turtle Mountain.
Bellevue daily video
South Peak daily video
Turtle Mountain Year-in-Review
These annual videos are made from short clips from the webcam video streams, starting at noon on each day of the year.
Bellevue 2020 annual video
South Peak 2020 annual video