More About the MCRF
The Mineral Core Research Facility (MCRF) contains more than 60 500 metres of mineral core, 12 500 metres of coal core, and 17 000 rock samples from various mapping and mineral exploration projects in Alberta. The collection is available to prospectors, mineral exploration companies, and academia for mineral exploration and research purposes.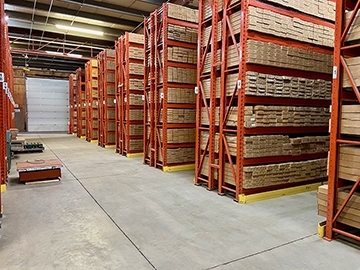 Detailed information on core holdings can now be found on the Alberta Interactive Minerals Map.
The Alberta Geological Survey (AGS) assists Alberta Energy to administer the Metallic and Industrial Minerals Regulations of the Mines and Minerals Act for the Province of Alberta. Under these regulations, the Crown may collect mineral core and rock samples from companies working on mineral permits. The AGS is the steward of this rock and core collection and all associated data, which are available to the public through the AGS website and in-person examination.
Mineral exploration companies and prospectors account for about half of the users. Federal and provincial geologists account for another third of the users and are the primary users of the rock samples. Graduate students and university staff request access to both core and rock samples every year. Materials have even been shown on Canadian television programs. Rock kits with accompanying booklets and maps were created using samples collected from 24 Alberta locations. These kits were used for teaching students about rocks and minerals.
In 1979, the Alberta Energy and Natural Resources Department (now Alberta Energy) started a diamond drillcore selection and storage program. The submission of core drilled during exploration for metallic or industrial minerals may be requested by the Metallic and Industrial Mineral Regulations as part of the exploration approval process. The AGS was directed to prepare a facility to store and manage the core and to select core and samples on behalf of the department. The original facility was called the MESS (Mineral Exploration Core and Sample Storage). In the early 1980s, a research component was added to the function, and the facility was renamed the Mineral Core Research Facility. In 1995, the activity became an integrated function of the Government of Alberta and the AGS.